Trattoria Zibibbo Florenz
Sie sind hier: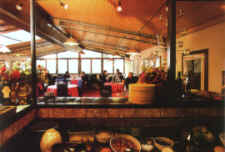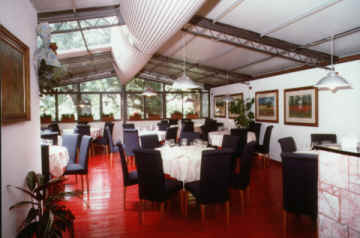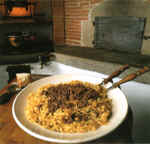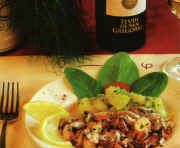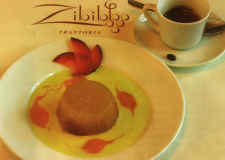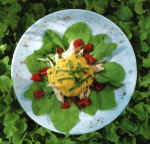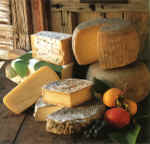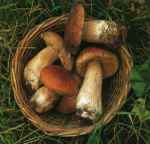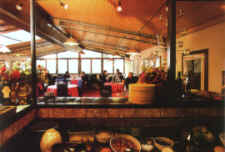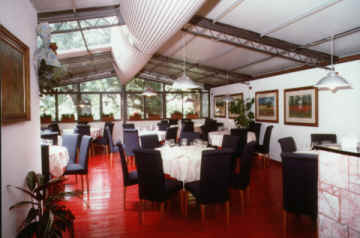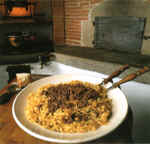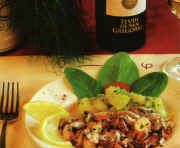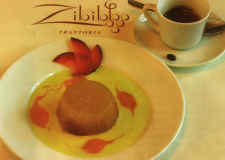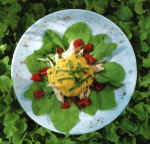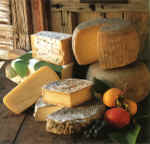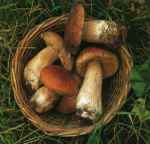 Collina
Via di Terzollina, 3/R - 50139 Florence - Italy
Toscana
Restaurant
Zibibbo is to alone ten minutes from the center in Florence, but already absorbed in the peace of the country, on the first hills that overhang the city, in the Careggi zone.
The Restaurant, from the unmistakable Mediterranean imprint, with his floor in wood red dark and big well distant round tables among them, is a true alcove for greedy.
Menu changes every day. The proposed dishes vary according to the availability of the products, rigorously fresh, retrieved daily on the market.
Vegetables are drawn from a garden situated in front of the restaurant, while all the other products are being acquired daily and with skill in shops and city markets.
The kitchen has taken care of personally from Benedetta Vitali, chef and soul of the Zibibbo, whose name has tied the CibrĂŠo, another famous restaurant of the city. All the proposed dishes are rich of tastes and perfumed approaches and they seem gone out of an ancient Tuscan kitchen. Gastronomic availability is divided fairly between flat to base of fish and meat. Exceptional they are the appetizers, many of which vegetarian.
The sweets, know instead to also satisfy the most demanding palates.
The wines list is ample and well taken care of.
ANTIPASTI Insalata di gallina Patè di fegato Spiedini di scamorza e pere Peperoni alla zingara Baccalà mantecato Sformato di ricotta alle erbe PRIMI Tagliatelle al sugo di anatra Tagliatelle al ragÚ Spaghetti al nero di seppia Tagliatelle ai gamberi e zucchine Spaghetti al pesce spada Spaghetti alle telline Minestra di lenticchie SECONDI Inzimino di calamari Involtini di sogliola fritti Calamari ripieni Impepata di cozze Carpaccio di pesce spada Sarde a Beccafico Baccalà al forno Gamberoni al cartoccio Cacciucco alla chiessese Crocchette di fave in salsa di yogurt Parmigiana di cardi Anatra ripiena con salsa di pere Coniglio ai peperoni Arista al forno con purè di mele Cipolle di pollo in umido Piccione lardellato Braciole rifatte in salsa Coscio d'agnello al forno CONTORNI Cipolline in agrodolce Peperonata Radicchio di campo Spinaci saltati Lenticchie DESSERT Crostata con crema di formaggio e arance amare Torta di gianduia Crostata con crema bavarese al caffè Bonnet Bavarese alla crema o al caffè con salsa di cioccolato Pastiera Mousse di marroni
SPUMANTI E CHAMPAGNE Prosecco - Col dei Salici Cà del bosco - Extra Brut Frescobaldi - Extra Brut Roederer - Brut Premiere VINI BIANCHI ALTO ADIGE Chardonnay Cornell '98 - Colterenzio Gewurztraminer '99 - Laimburg Muller Thurgau '99 - Lainburg Sauvignon "Lafoà " '98 - Colterenzio Sauvignon '99 - Lainburg FRIULI Muller Thurgau '00 - Jermann Pinot Grigio '00 - Cast. della Spessa Sauvignon '99 - Cast. della Spessa Vintage Tumina '99 - Jermann Sauvignon Picol '00 - Lis Neris Chardonnay Jurosa '00 - Lis Neris Pinot Grigio Gris '00 - Lis Neris Confini '98 - Lis Neris LOMBARDIA Franciacorta bianco '00 - La Farghettina Malvasia '00 - Colli Piacentini - La Tosa Sauvignon '00 - Colli Piacentini - La Tosa TOSCANA Chardonnay "Al Poggio" '99 - Castello di Ama I Sistri '98 - Felsina Pomino Bianco '00 - M. Frescobaldi Pomino Benefizio '98 - M. Frescobaldi Vernaccia S. Gimignano '00 - Panizzi Vernaccia Riserva '99 - Panizzi Fermentino Bolgheri '00 - Antinori UMBRIA Cervaro della Sala '97 - Antinori Conte della Vipera '98 - Antinori-Ladoucette LIGURIA Gavi '00 - La Battistina CAMPANIA Fiano di Avellino '00 - Feudi di S. Gregorio La Falanghina '00 - Feudi di S. Gregorio Greco di Tufo '00 - Feudi di S. Gregorio SICILIA Yrmn '99 - Az. Agr. Miceli S. Agostino '99 - Az. Agr. Firriato VINI ROSSI IL CHIANTI Chianti Castiglioni '00 - Frescobaldi Chianti Riserva '98 - Castelvecchio Chianti Rufina '96 - Castello di Nipozzano Chianti Classico '99 - Peppoli Chianti Classico '98 - Felsina Chianti Classico '99 - Fonterutoli Chianti Classico '99 - Vecchie Terre Montefili Chianti Classico '98 - Castello di Ama Chianti Classico '98 - Castello di Fonterutoli Chianti Classico '98 "Vigneto Rancia" - Felsina Chianti Classico '97 "IL Grigio" - San Felice Chianti Classico '98 "Riserva Ducale" - Ruffino TUSCAN Morellino di Scansano '00 - Morris Farm Morellino di Scansano '00 - Belguardo Sassotondo '99 - Az. Agr. Benini S. Lorenzo '99 - Az. Agr. Benini Pomino rosso '98 - M. Frescobaldi Merlot '98 - Rendola La Pineta '98 - Rendola Vigna all'Erta '98 - Vigliano Rosso di Montepulciano '98 - La Braccesca Rosso di Montepulciano '98 - Canneto Nobile di Montepulciano '98 - Ruffino Brecciolino '99 - Az. Agr. Castelvecchio Fontalloro '98 - Fonterutoli SUPER TUSCAN Avvoltore '99 - Morris Farm Brucignana '97 - Castello della Leccia Bruno di Rocca '98 - V. T. di Montefili Brunello di Montalcino '96 - Castelgiocondo Guado al Tasso '98 - M. Antinori Fiore '98 - Castello di Meleto I Collazzi '99 - Fatt. I Collazzi Luce '95 - Frescobaldi-Mondavi Lucente '96 - Frescobaldi-Mondavi Lamaione '97 - Frescobaldi Nero del Tondo '97 - Ruffino Pian del Ciampolo '96 - Montevertine Poggio Rosso '97 - San Felice Tignanello '98 - M. Antinori Vigorello '97 - San Felice Siepi '99 - Fonterutoli Pinot Nero '99 - M.si Pancrazi LE ALTRE REGIONI Barbaresco '97 - A. Gaja Dolcetto d'Alba '00 - Prunotto Pinot Nero Riserva '97 Colterenzio St. Magdalener '00 - Lagrein Perl '99 - Lagrein St. Magdalener Lagrein Riserva '97 - St. Magdalener Cabernet Riserva '99 Mumelter Ritratti Rosso '97 - - La Vis Zinfandel '00 - Anfora
Wo Wir Sind
Kontakte mit dem folgenden Formular
Kommentar
Keine Kommentare eingefügt