Gaststätte Il Micio Florenz
Sie sind hier: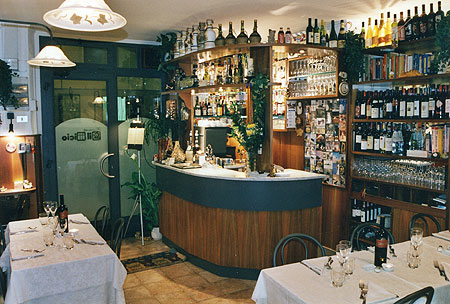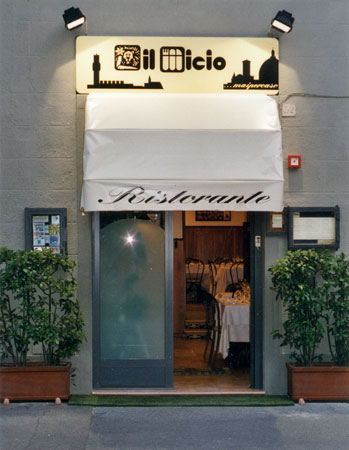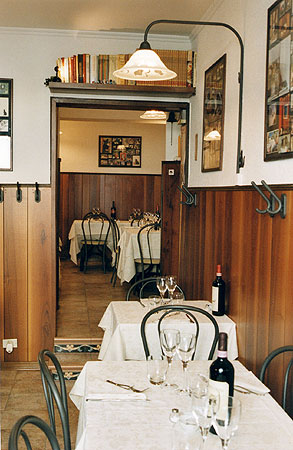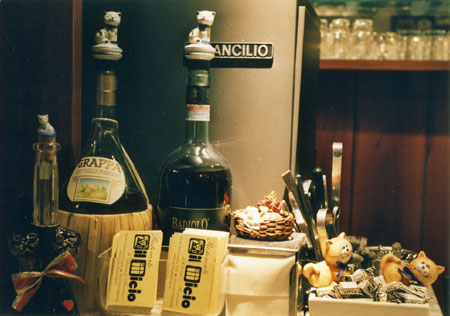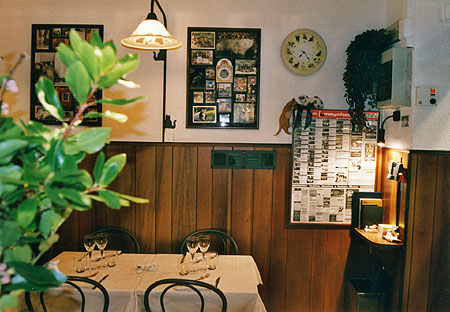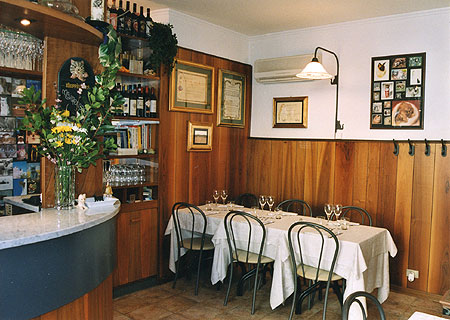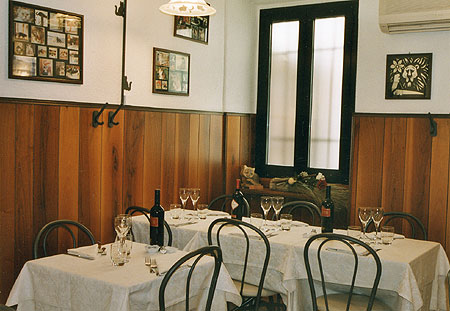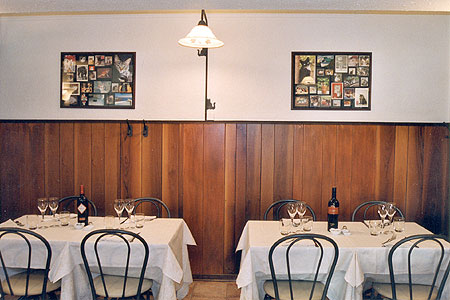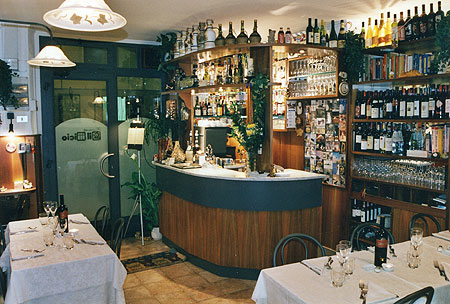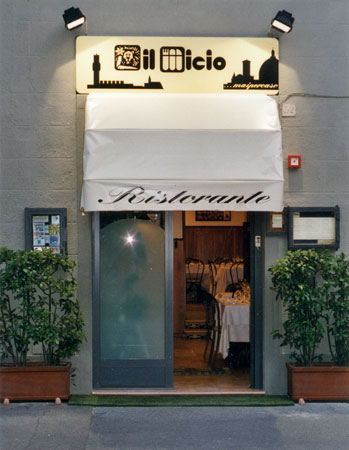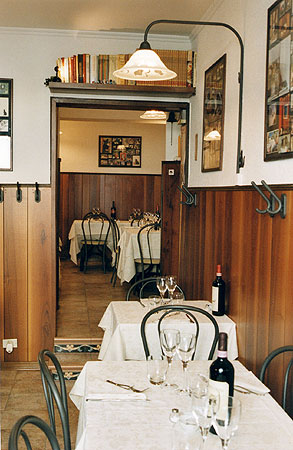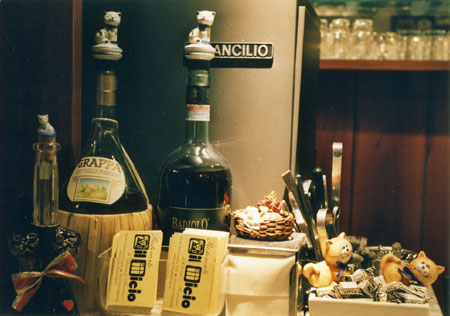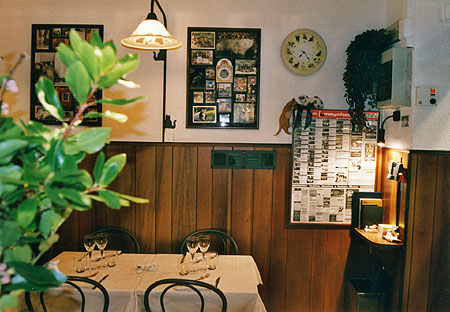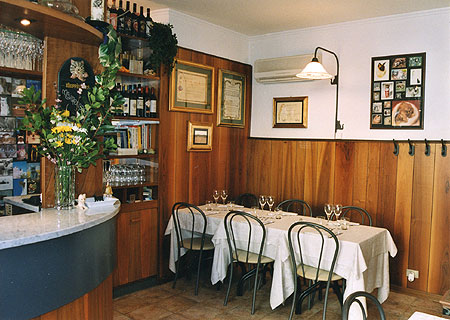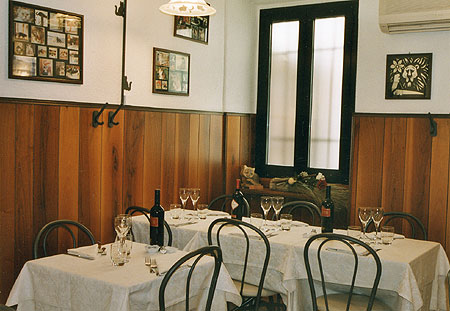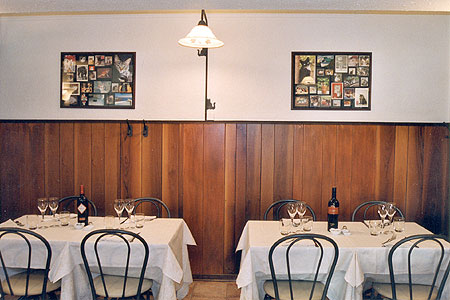 Centro Storico
Via FrĂ  Bartolommeo, 52 Rosso - 50132 Firenze
Classico
Domenica
055-573257
055-456122
We started this experience by taking the little
restaurant
out in October, 1st 1986 and we were guided by passion and by the decision of making a particular restaurant out of it in five years. We wanted to create an elegant but not pretentious restaurant. A new restaurant in Florence to eat good dishes without spending a lot of money and first of all where to eat things you usually do not find in your everyday-way of cooking...
This is what we wanted and bet! That's why our first motto was: "eating without being bored", that is to say to eat for pleasure and not because you're only hungry. We loved what we were doing so that we received many little gratifications and rewards through the years, that's why after all (and 15 years…) we are still here and we long for it. Il Micio restaurant in Florence is still the little place it was (only 32 seats), nothing changes its little-bistrot atmosphere always warm and informal with its little tables, the elegant tablecloths and the crystal glasses that remind us of the genuine and warm way to welcome our "friends".
I principi... Paté di lepre al tartufo. Foormaggio Tilsit al forno con speck. Mousse di cernia con gamberetti. Flan di baccalà con crema di fagioli cannellini.____________8. 50 Le minestre e le paste... Ribollita alla fiorentina. Zuppa di pesce alla marsigliese. Passatelli in brodo di carne al cognac.__________________ 5. 50 Trenettine all'aglio, olio e peperoncino con lardo di Colonnata Risottino mantecato all'arancia con gamberetti. Taglierini al burro e tartufo nero. Ravioli di Pecorino alla crema di zucca gialla e noci. Tortelli di Pecorino saltati al burro e pere. Maremmani casalinghi di Ricotta e spinaci al burro, salvia e Grana. Tortelli di patate casentinesi al sugo di funghi._______________8. 50 I tramezzi e le pietanze... Crostone al lardo di Colonnata con uova di quaglia all'occhio di bue. Lumache a la bourguignonne. Gran grigliata di verdure miste. Sformatino di cavolo nero con fagioli. Formaggio Roccolo di Valtaleggio con miele.______________ 9. 50 Peposo di manzo alla fornacina. Tagliata di manzo con rucola, tartufo e scaglie di Grana. Gnudi di fegatello al Grand Marnier. Stinco di maiale all'uva fresca. Filetti di baccalà con cous-cous alla potentina. Cacciucco di palombetto alla livornese.__________________13. 50 Gli erbaggi... Cavolfiore saltato al finocchio. Patate al formaggio e tartufo nero. Fagioli toscanelli all'olio nuovo. Involtini di verza ripieni al forno. Spicchietti di carciofo alla parmigiana.___ 5. 50 Le crepes salate e dolci... …con Gorgonzola e rucola. …con Taleggio e melanzane. …con Tilsit e tartufo nero.______________ 9. 50 . . .all'arancia e Grand Marnier. …al cioccolato fondente. …alle fragole e aceto balsamico.________ 7 .50 I dolci... Ananas fresco al naturale. Gelato di crema al whisky. Tortina di frolla e cioccolato caldo. Crema catalana brûlée al Rum. Torta Sacker al cioccolato. Torta di mele della nonna. Cantucci di Migliana con cioccolato.___________________ 5. 50 ENGLISH MENU' INSIDE.
VINO DA TAVOLA # Vallefiore (rosso e bianco) 75 cl.__________ 6.00 ACQUE MINERALI : # Ferrarelle 50 cl._____________________1.00 Palina (gas.- nat.) 75 cl._______________ 1.50 ## Perrier 75 cl. ______________________ 2.50 BIBITE 50 cl. : # CocaCola - Coca Light_________________ 2.50 # Fanta Orange - Sprite_________________2.50 BIRRE 33 cl. : # Nastro Azzurro - Beck's - Ceres___________ 3.00 # Kronenbourg – Adelscott – Clausthaler______ 3.00 CAFFETTERIA : Espresso-Hag-Americano_______________ 1.50 Corretto-Cappuccino-Infusi ______________ 2.00 LIQUORI & DISTILLATI_______________ 3.00 Le mezze bottiglie VINI ROSSI #Bordeaux rouge Fontbreuil_____________ 6.00 #Cabernet Franc Ca' Bolani_____________ 7.00 #Cabernet Le Poesie Cantina di Soave_______5.00 #Chianti Torre delle Grazie______________ 7.00 ##Corvo rosso Duca di Salaparuta_________8.00 #Rubesco di Torgiano Lungarotti_________ 10.00 ##Santa Cristina Antinori______________ 9.00 #Schietto toscano Nobile Prima___________ 6.00 VINI BIANCHI #Bordeaux Sauvignon Blanchard_________ 6.00 #Chardonnay del Friuli Ca' Bolani________ 8.00 #Corvo bianco Duca di Salaparuta_________7.00 #Muller Thurgau S.ta Magdalena di Gries___10.00 #Pinot Cuvè Le Poesie di Soave___________ 5.00 #Prosecco Mionetto brut_______________ 5.00 #Verdicchio di Jesi Fazi-Battaglia_________ 8.00 #Vignapiana toscano Nobile Prima________ 6.00 I vini rossi #Aglianico Piedirosso Alfonso Rotolo________ 16.00 #Amarone della Valpolicella Villa Raminia____22.00 #Cabernet Sauvignon barrique Ca' di Pietra____14.00 #Chianti Classico Lamole di Lamole_________ 16.00 #Chianti Classico Castello di Lucignano_______18.00 ##Chianti Classico Peppoli Antinori________ 20.00 #Chianti Classico La Torre di Casenuove______ 16.00 #Chianti I Massi di Nobile Prima__________12.00 #Domaine Chateau Lamargue____________14.00 #Lagone di Bolgheri Aia Vecchia___________18.00 #Le Querci Toscane di Nobile Prima _________8.00 #Marzemino i Mastri Vernacoli____________2.00 #Merlot del Veneto Ca' di Pietra___________ 12.00 #Montecucco Sacromonte Castello di Potentino__ 15.00 #Morellino di Scansano Aia Vecchia_________16.00 #Negramaro del Salento Mavro____________20.00 #Nero d'Avola Don Pietro Spadafora________22.00 #Pinot Nero Le Pergole Alte______________16.00 #Primitivo di Manduria Resta_____________17.00 #Raboso Rosso di Romina Ca' di Pietra_______15.00 #Rosso di Montalcino Torre delle Grazie_______20.00 ##Rosso di Montepulciano Sabazio Antinori____18.00 #Rosso di Monterotondo Vignone Basagni_____16.00 ##Sangre de Toro Torres _______________ 14.00 #Schietto toscano Nobile Prima____________10.00 #Syrah Schietto dei Principi di Spadafora_____26.00 #Teroldego Rotaliano Le Pergole Alte________14.00 I vini bianchi #Alcamo d.o.c. Rapitalà _________________12.00 #Bordeaux Mouton Cadet Rothschild________ 18.00 #Chablis Sainte Claire Brocard____________ 16.00 #Chardonnay del Veneto Ca' di Pietra________12.00 #Falerio dei Colli Ascolani Leo Guelfus________14.00 #Fiano di Paestum Alfonso Rotolo_________ 15.00 #Gewurztraminer d'Alsazia Zirnhelt________ 14.00 #Grecanico di Partinico Nadarìa___________ 10.00 #Greco Beneventano Titerno______________12.00 #Inzolia Don Pietro Spadafora____________19.00 #Le Querci Toscane di Nobile Prima_________ 8.00 ##Parrellada Vina Sol Torres_____________14.00 #Pinot Bianco Meran Kelleri_____________14.00 #Roero Arneis Matteo Correggia___________14.00 #Sauvignon del Collio Boan_______________14.00 #Sibiola di Sardegna Dolianova ROSE'______________10.00 #Terre di Franciacorta Borgo Supremo_______ 12.00 #Tocai del Friuli Petrussa________________ 20.00 #Vermentino Lughente Giogantinu__________ 20.00 #Vignapiana toscano Nobile Prima__________10.00 I vini frizzanti #Barbera vivace Riccagioia ROSSO____________________ 11.00 #Bonarda secca Riccagioia ROSSO____________________ 11.00 #Brut millésimé Cesarini-Sforza ____________ 20.00 #Brut nature Antinori __________________ 24.00 #Lambrusco Reggiano Tenuta di Roncolo ROSSO_____14.00 #Malvasia dell'Emilia Tenuta di Roncolo_______14.00 #Muller-Thurgau Valli delle Dolomiti_________10.00 #Prosecco Marca Trevigiana Ca' di Pietra ______12.00 #Recioto di Gambellara demì-sec ____________ 15.00 I vini da dessert bott. /calice #Brachetto Alte Rocche Bianche #Marsala Rubino Pellegrino #Moscato Cru Chiriera 50 cl. #Moscato d'Asti Alte Rocche Bianche #Moscato passito di Trani Botta #Vernaccia di Oristano Silvio Carta #Vinsanto Santelmo Conti Serristori #Zibibbo di Sicilia Zagara_____________15.00 / 3.00 Gli aperitivi #Americano Gancia #Bitter Campari #Cinzano Bianco o Rosso Cocktail Negroni #Pastis de Marseille Ricard_______________ 3.00 I digestivi #Amaro siciliano Averna #Brancamenta #Cynar ##Fernet Branca #Jagermeister #Montenegro #Petrus Boonekamp #Rabarbaro Zucca #Unicum Zwack______________________3.00 I liquori dolci #Cointreau des Oranges Crema di liquirizia #Disaronno Amaretto Originale #Grand Marnier Cordon Rouge #Limoncello Liquore di erba cedrina #Sambuca Molinari Extra #Sambuca d'anice stellato Averna #Whiskream Franciacorta______________ 3.00 I liquori #Armagnac Gelas Sélection #Brandy Torres 10 Gran Reserva #Calvados Berneroy Selection N° 5 #Cognac G.C. Ragnaud-Sabourin #Gin Strength Beefeater 47° ##Ron anejo Pampero especial #Whiskey bourbon Kentuky Yankee aged 5 years ##Whisky malt Glen Grant 5 years old #Whisky scotch Dark Castle years 12 over #Whisky scotch Charles House of Glasgow #Whisky scotch Richardson fully matured ##Whisky of Islay Laphroaig 10 years old #Vodka Premium Danzka________________ 3.00 Le grappe #Eau de Pruneaux Fassbind #Eau de Williams Fassbind #Erbe alpine Li.Di.A #Grappa Barrique Dolce Vite ##Grappa Bianca Candolini #Grappa Bianca Dolce Vite #Grappa dei Colli Toscani #Grappa Morbida Sandro Bottega #Grappa Oro Bertagnolli #Grappino Bertagnolli Liquirizia Uva d'Oro #Pura vinaccia Uva d'Oro #Salvia e Limone Mazzetti d'Altavilla________3.00 Le monovitigno #Arneis Barrique Sibona #Barbera Antica Grapperia #Barbera Barrique Sibona #Barolo Marchesi di Barolo #Brunello di Montalcino Banfi #Cabernet Durbino #Champagne Moet & Chandon ##Chardonnay Villa Frattina #Chianti Fattoria Oliveto #Cortese Antica Grapperia #Dolcetto Fratelli Marolo #Moscato Uva d'Oro #Nero d'Avola e Syrah Averna #Pinot Uva d'Oro #Prosecco Aneri #Riesling Franciacorta #Sauvignon Villa Frattina #Teroldego Bertagnolli #Uvè di Muller Thurgau Dolce Vite_________ 3.00
Wo Wir Sind
Kontakte mit dem folgenden Formular
Kommentar
Keine Kommentare eingefügt