Gaststätte Da Tito i peccati di gola Florenz
Sie sind hier: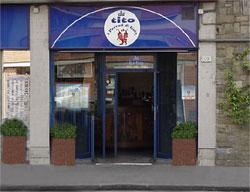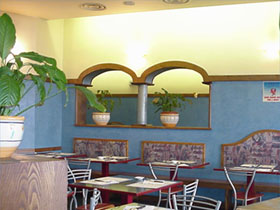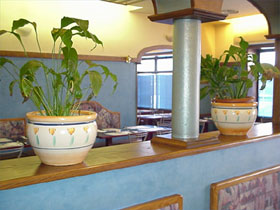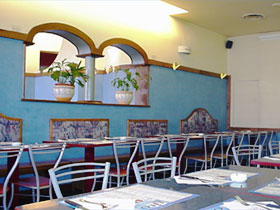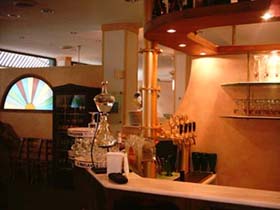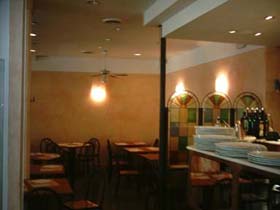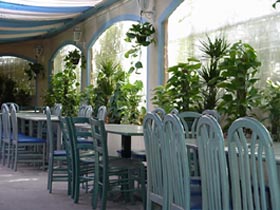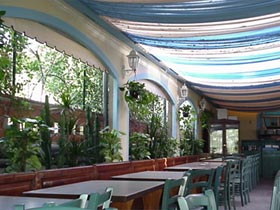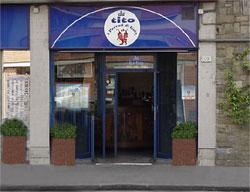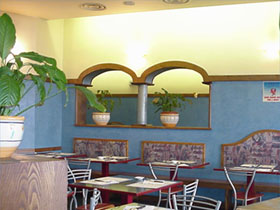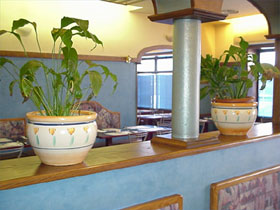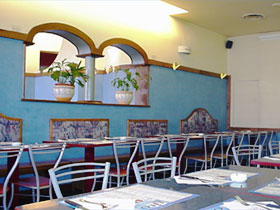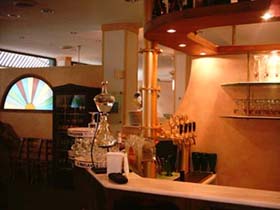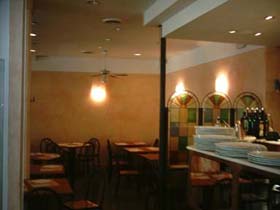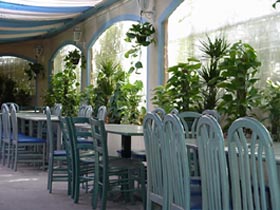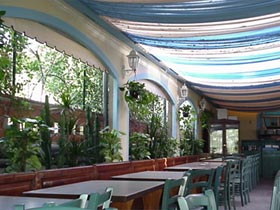 Centro Storico
Via Baracca, 149 - 50127 Firenze
35
In a continuous effort to satisfy our customers TITO has opened a new
pizzeria
and
restaurant
- I Sette Peccati.
Both I Peccati di Gola and Il Sesto Girone are open for lunch and dinner and stay open till late at night and both offer take away service.
In the new restaurant/pizzeria Il Sesto Girone, we have a large garden with a seating capacity for 100 people, thus we can organize special occasions for our customers.
The new restaurant/pizzeria "I Sette Peccati", has a big room with a seating capacity of 120 people.It is open for lunch and stay open till late at night.
Our menu offers a vast choice of entrees, main courses and pizzas, as well as delicious appetizers like crostini and bruschetta; ideal for a snack or a quick supper. Not to mention the sweet or salted crepes, as well as Egyptian specialties upon request.
We guarantee the quality of the food we serve you. Our criterion for purchases from our suppliers is high quality and freshness, i.e. fish, fruit, mozzarella, mozzarella di buffalo, etc.
For groups from 20 to 200 people we can arrange special menus at a fixed price upon request.
To view all our specialties please click on the list of items to your right.
ANTIPASTI Antipasti (Crostini offerti dalla casa secondo disponibilità ) Antipasto di mare misto caldo (fresco) € 7,00 Antipasto fantasia di mare € 7,00 Antipasto toscano o sott'olio € 6,00 Antipasto alle vongole veraci € 8,00 Cartoccio di gamberi con pomodoro fresco € 6,00 Cocktail di gamberetti € 5,00 Crostini di polenta e porcini € 5,00 Crostini "... i Peccati di gola" misto € 5,00 Cozze alla marinara € 6,00 Gamberetti con curry caldo € 5,00 "...i Peccati di Gola" gamberetti, fagioli, sedano € 6,00 Mosaico di pesce al fumo € 6,00 Mozzarella in carrozza € 5,00 Prosciutto e melone o ananas € 6,00 Prosciutto e mozzarella bufala € 6,00 Piatto ricco con affettati e crostini € 8,00 Scamorza alla griglia € 4,00 Scamorza e prosciutto € 5,00 CROSTINI E BRUSCHETTE Amon (prosc., fung. porc., mozz.) € 5,00 Assuan (mozzarella, olive, acciughe, origano) € 5,00 Chefren (crema di tartufo, mozzarella) € 5,00 Mar Rosso (gamb., tonno, salsa rosè) € 6,00 Menfi (scamorza, speck) € 5,00 Orgada (Mozzarella, rucola e gamberetti) € 5,00 Nilo (pomodoro fresco, basilico) € 4,00 Nubi (stracchino, salsiccia) € 4,00 Ramesse (mozzarella, crema d'asparagi, pancetta) € 4,00 Sfinge (burro, salmone) € 5,00 Tebe (pomodoro fresco, mozzarella) € 4,00 CONTORNI Contorno di stagione € 3,00 Mais salato al burro € 3,00 Patate fritte* € 3,00 Spinaci* € 3,00 Formaggi assortiti con miele € 7,00 INSALATE Insalata Atom (dadini di bresaola, ruc. pom. carote, grana) € 6,00 Insalata caprese di bufala € 6,00 Insalata del Faraone (rucola, pom. mais, gamb. fagiolini) € 6,00 Insalata Egiziana (pom. ruc. cipol, ton. mais) € 6,00 Insalata Isis (ton. cipol. fagioli, pom, rucola) € 6,00 Insalata il Karnak (pom. rucola, mozz. mais, rad. rosso, prosc. crudo) € 6,00 Insalata "...I Peccati di gola" (pom. rucola, pecor. uovo, funghi prosc. cotto) € 6,00 Insalata Sfinge (pom. rucola, peper. aglio, cipol. piccante) € 5,00 Insalata mista € 5,00 Insalata Cairo (rucola, salm.affum., basilico, mozz. cetrioli, olive) € 6,00 Insalata Minn (radic. misto, salm. affum., gamberetti, barbe rosse) € 6,00 Insalata Cheope (riccia, mais, radicchio, noce, pecorino, salam. picc.) € 6,00 PRIMI PIATTI Tris di pesce (min 2 pers.) a persona (farfalle al salmone) (fusilli al Purgatorio con aragosta* vera rosè) (penne con seppia* e asparagi con panna piccante ) € 7,00 Tris di primi a piac.di terra (min 2 pers.)a pers. € 6,00 Bucatini Sfinge (pom., panc. cip. pic.) € 6,00 Chiocciole (porro, gorg., salsiccia, poca panna) € 7,00 Conchiglie con funghi porcini e gamb.* € 7,00 Conchiglie all'Egiziana (pom.fres.gam.,zucc.) € 6,00 Conchiglie all'ortolana (verdura fresca) € 6,00 Farfalline al salmone € 6,00 Fusilli agli scampi* con carciofi € 6,00 Fusilli al Purgatorio con arag.* vera rosè € 7,00 Fusilli del Faraone ( gamb. asp. panna) € 6,00 Penne agli asparagi e panna € 5,00 Penne o risotto agli scampi rosè* € 6,00 Penne alla polpa di granchio rosè* € 6,00 Penne al pomodoro fresco (scaglie di parmigiano) € 6,00 Penne Caronte (picc. con melanz. pom.) € 6,00 Penne con seppie* e asparagi (pan., pic.) € 5,50 Penne "Golose" (pan., pom. fun. prosc. picc.) € 6,00 Penne Horas (ricotta, panna, noci) € 6,00 Penne "...i Peccati di Gola" (pan. noci, mas.) € 6,00 Penne Mar Rosso (radic. rosso, gamb.* panna) € 6,00 Penne Nubi (ricotta, spinaci e panna) € 5,00 Penne Sharm el Sheik (funghi, panna, 4 form., pic.) € 6,00 Penne strascicate (ragù, panna) € 5,00 Penne ai 7 peccati (panna, pom., prezz. panc., porro, parm.picc.) € 6,00 Maltagliata (pom. fresco, scampi, zucch., vongole) € 7,00 Paglia e fieno al Paradiso (pest. vong. veraci) € 7,00 Paglia e fieno Cleopatra (salsic. cip. picc.) € 6,00 Paglia e fieno all'infer. (uova pom. picc.) € 6,00 Ravioli al ragù € 5,00 Ravioli alla rucola e panna € 5,00 Ravioli burro e salvia € 5,00 Ravioli con crema di tartufo € 7,00 Ravioli ripieni di salmone rosè € 7,00 Tagliatelle ai porcini bianco € 7,00 Tagliatelle File (panna,fiori di zuc., pom.fres.,cozze) € 7,00 Tagliatelle mare e monti rossa € 7,00 Topini con gamberi* e pesto € 6,00 Topini ai 4 formaggi € 6,00 Topini Ramsis (carote e pepe verde) € 5,00 Topini alla polpa di granchio rosè* € 7,00 Topini Satana (asparagi, panc. picc. e panna) € 6,00 Tortelloni del deserto (car. cipol. pan.) € 6,00 Tortelloni Luxor (asparagi e 4 form.) € 6,00 Tortellini panna e prosciutto € 5,00 Tortellini rosè € 5,00 Risotto alla pescatora rosso* € 8,00 Risotto ai carciofi € 5,00 Risotto ai 4 formaggi € 5,00 Risotto al curry e gamberetti* € 6,00 Risotto ai funghi porcini € 6,00 Spagh. Abu Simbel (pom. ton. vong. salm.) € 8,00 Spaghetti alla carbonara o carrettiera € 5,00 Spaghetti all'aragosta vera* € 9,00 Spaghetti alle vongole veraci rosse € 7,00 Spaghetti allo scoglio € 8,00 Spaghetti al tonno € 6,00 SECONDI PIATTI Bistecca alla fiorentina € 12,00 Possibilità di bistecca alla fiorentina al kg € 28,00 Hamburger a piacere con patate € 6,00 Filetto al gorgonzola € 11,00 Filetto al pepe verde € 11,00 Frittura di pesce* € 7,00 Orata alla griglia o spigola € 8,00 Grigliata di scampi e gamberoni* € 11,00 Grigliata di verdura fresca € 6,00 GRIGLIATA MISTA DI PESCE* € 18,00 GRIGLIATA DI CARNE PER 2 PERS. € 25,00 Lombatina di vitella alla griglia € 8,00 Milanese € 7,00 Petti di pollo con riso al curry € 7,00 Rosticciana, salsiccia alla griglia € 7,00 Scaloppine "...i Peccati di Gola" o a piac. € 7,00 Shis-kebab € 8,00 Spezzatino all'Egiziana € 8,00 Tagliata alla rucola o ai funghi porcini € 11,00 Tagliata di pollo € 7,00 Trancio di pes. alla griglia* € 7,00 Wurstel alla griglia con patate* € 6,00 * Alimenti surgelati CUCINA EGIZIANA IL GIOVEDI' SOLO SU PRENOTAZIONE CARPACCI Bresaola, parmigiano, rucola, funghi freschi € 6,50 Carpaccio carne di manzo* € 6,50 Carpaccio di salmone € 6,50 Carpaccio di pesce spada* € 6,50 Carpaccio di tonno* € 6,50 PIZZE Abu Simbel (mozz.-stracchino-ricotta-pecorino-fontina) € 6,00 Amon (pom.-mozz.-porcini-prosc. picc.) € 7,00 Asparagi (mozz.-pom-asparagi) € 5,00 Assuan (mozz.-pom.-bresaola-ruc.-parmig. a scaglie) € 7,00 Atum (mozz.-pom.-prosc.-sals.-wurstel) € 6,00 Beatrice (pomodoro mozzarella-prosc.crudo-rucola) € 5,50 Biancaneve (mozzarella) € 3,00 Braccio di ferro (pom.-prosc.-ricotta-spinaci*-mozz.) € 5,00 Cairo (pom. mozz. scamorza prosciutto crudo) € 6,00 Calabrese (pom.-mozz.-salamino picc.-cipolla) € 5,00 Caprese (mozz.di bufala-fette pomodoro-rucola) € 6,00 Capricciosa (pom.-mozz.-prosc.-wur.-peper-fun-olive-carc.) € 5,00 Caronte (pom.-mozz.-melanz.-parmi.-poco gorgonzola) € 5,50 Cerbero (pom.-mozz.-salamino picc.-wurstel-prosciutto) € 5,50 Chefren (pom.-mozz.-funghi-crema di tartufi) € 6,00 Cleopatra (pom.-mozzarella-spinaci*-salsiccia) € 5,00 Alla cipolla (pomodoro-mozzarella-cipolla) € 4,00 Del faraone (pom.-mascarpone-speck-panna) € 6,00 Del principe (pom.-mozzarella-uovo-speck) € 6,00 Del re (alta) (pom.-mozzarella-prosciutto crudo) € 6,00 Deserto (mozz.-patata-rosm.) € 4,50 Dante (pomodoro-mozzarella-porro-gorg.-salsiccia) € 7,00 Egiziana (mozz.-pom.fres.-cip.-zucc.-aglio-picc.-past.int.) € 6,00 Ekhnaton (pom.-scamorza-prosciutto cotto) € 5,50 File (pom.-mozz. di bufala-pom. fresco-prosc.-ruc.) € 7,00 Fiorentina (pom.-mozz.-salsiccia-piselli*) € 4,50 Frutti di mare (pom.-prezzemolo-aglio-frutti di mare*) € 6,00 Funghi (pom.-mozzarella-funghi) € 4,00 Funghi porcini (pom.-mozz.-aglio-funghi porcini) € 6,00 Giza (pom.-mozz.-mascarpone-prosc. crudo) € 6,00 Golosa (pom.-panna-funghi-prosc.-wurstel-prezz.) € 6,00 Gorgonzola (pomodoro-mozzarella-gorgonzola) € 4,00 Hawai(mozz.-pom.-gorgonzola.-ananas) € 6,00 Horas (pom.-mozz.-cipol.-peper.-melanz.-aglio) € 5,50 Il Karnak (mozzarella-speck) € 4,50 "... I peccati di gola" (pom.-panna-masc.-noci-basilico-picc.) € 6,00 Inferno (pom.-prosc.-salamino picc.-wurstel) € 5,50 Iris (pom.-mozz.-salsiccia-cipolla-peperoni) € 5,50 Maialona (pom.-mozz.-prosciutto cotto-salsiccia-wurstel-salam. picc.) € 7,00 Margherita (pomodoro-mozzarella) € 3,50 Margherita Reale alta (pomodoro-mozzarella bufala) € 5,50 Marinara (pomodoro-aglio-origano) € 3,00 Mar Rosso (pom.-ton.-maion.-gamb.-salm.aff.-aglio-picc.) € 6,00 Melanzane (pom.-mozz.-prezz.-melanzane fresche-aglio) € 4,50 Minn (pom.-moz.-wurs.-prosc.-fung. sal. picc.-cipol.) € 6,00 Napoli (pom.-mozz.-acciughe-capperi-origano) € 4,00 Nefertiti (mozz.-pom. -gamb. rucola) € 5,50 Nubi (pom.-mozz.-stracchino-salsiccia) € 5,00 Ortolana (pom.-caro.-melanz.-fagio.-peper-zucch.-cip.-picc.-agl.) € 6,00 Osiride (mozz. bufala-pom. a fette-ruc.-prosc. crudo) € 7,00 Paradiso (prosciutto-4 formaggi-mozzarella) € 6,00 Peperoni (pom.-mozzarella-peperoni freschi) € 4,00 Pescaiola (pom.-mozz.-funghi porcini-olive-origano-salsiccia piccante) € 8,00 Primavera (mozz.-pom.-prosc.-carciofi-olive-piselli*) € 5,00 Prosciutto e Funghi (pom.-mozz.-prosc. e funghi) € 4,50 Prosciutto (pom.-mozz.-prosciutto) € 4,00 Purgatorio (pom.-mozz.-aglio-funghi-acciughe-picc.) € 5,50 4 Formaggi (pom.-mozz.-font.-gorgonzola-parmigiano) € 5,00 4 Stagioni (pom.-mozz.-prosc.-funghi-olive-carciofi) € 5,00 Raa (pom.-panna-funghi-picc.) € 4,00 Rifugio alpino (stracchino-speck) € 5,00 Rosè (pomodoro-panna) € 4,00 Rucola (mozzarella-pomodoro-rucola) € 4,00 Salamino piccante (pom.-mozz.-salamino piccante) € 4,00 Salsiccia (pomodoro-mozzarella-salsiccia) € 4,00 Saqqara (pom.-panna-prezzemolo-salmone) € 6,00 Satana (pom.-mozzarella-prosc.-salamino picc.-salsiccia) € 6,00 Sfinge (pom.-tonno-salmone-cozze-aglio picc.) € 6,00 Sharm el Sheik (pom.-mascarpone-prosciutto crudo) € 6,00 Tebe (pom.-mozz.-scaglie parmig.-basilico) € 5,00 Tito (mozz.-pom.-spin.-salam. picc.-wur.-cipol.-oliv.) € 6,50 Tohotmes (mozz.-stracchino-pom.-speck) € 6,00 Tonno (pom.-mozz.-aglio-prezz.-tonno) € 5,00 Tutanchamen (mozz.-pom. fresco-insalata-pasta integrale) € 6,00 Valle dei Re (pom. fresco-mozz.-parmigiano-rucola-crudo) € 6,50 Vegetariana (pom.-mozz.-pisel.*-aglio-spin.*-asp.-carc.) € 6,00 Wurstel (pom.-mozz.-wurstel) € 4,00 CALZONI Calzone (mozz.-prosc.) € 4,50 Calzone Amon (mozz. prosc.-funghi porc. picc) € 6,00 Calzone Bracio di ferro (spinaci*-ricotta- prosc.) € 5,00 Calzone Chefren (crema-tartufo-funghi-poca mozz.) € 6,00 Calzone delle Piramidi (mozz.-funghi-prosc.) € 5,00 Calzone del Nilo (mozz.-prosc.-picc.) € 4,50 Calzone farcito (mozz. prosc.-funghi-carciofi) € 5,00 Calzone Nubi (mozz.-stracchino-salsiccia) € 5,50 Calzone Peccati di Gola (mascarp.-poco gorg.-panna-noci trit.) € 6,00 Calzone 4 formaggi (prosciutto-4 formaggi- mozzarella) € 5,00 Calzone ricotta (prosc.-mozzarella-ricotta) € 5,00 Calzone Ramesse (mozz.-sals.-picc.prosc.wurst.-picc.) € 6,00 Calzone Tito (mozz.-spinaci*-salsic. picc.-cip.-prosc.-wurst.) € 6,00 FOCACCE Focaccia Bresaola (bresaola-rucola-scaglie parmigiano-funghi freschi) € 6,50 Focaccia fontina e speck € 5,00 Focaccia Papiro (salsiccia-stracchino) € 4,50 Focaccia prosciutto crudo € 4,00 Focaccia 4 formaggi (mozz.-font.-parmig.-gorgonzola) € 4,50 Focaccia alla scam. e speck € 5,00 Pasta integrale sovrapprezzo € 1,00 Mozzarella di bufala € 2,00 PIZZETTE DOLCI Calzone Karnak (solo nutella) € 5,00 Calzone Orgada (crema pasticcera, nutella) € 5,00 Mora Calzone (mascarpone-nutella) € 5,00 Pizza del Faraone (panna -frag.-panna mont.-ciocc. fuso) € 5,00 Morosa (cioccolato fuso-banana-panna mont.) € 5,00 PANINI CALDI Assuan (rucola, bresaola, strac.) € 5,00 "...i Peccati di Gola" (ton. pom. maio.,ins.) € 5,00 Mar Rosso (gamb. salsa rosé, insal.) € 5,00 Menfi (hamburger, cipolla, ketchup) € 5,00 Minn (insalata, mozzarella, pros. crudo) € 5,00 Nubi (salsiccia, stracchino, maion.) € 5,00 Sfinge (salmone, insalata, salsa rosé) € 5,00 Tebe (pomodoro, insalata, mozz.) € 5,00 PIZZE I SETTE PECCATI (disponibili solo a "I sette peccati") Ira (salame piccante-salsiccia-cipolla-prosc.-wurst.-pep.) € 7,00 Gola (pom.cilieg.fresco-burrata-rucola) € 8,00 Avarizia (focaccia-rosmarino) € 3,00 Invidia (pom.-mozz.-melanz.-pep.-cipo.-salsiccia) € 7,00 Lussuria (mozz.-salmone-uova storione-rucola) € 8,00 Pigrizia (pom.-mozz.-prosciutto crudo) € 5,00 Superbia (pom.-cipolla-fagioli-salsiccia) € 6,00 FRUTTA E DOLCI Ananas con mascarpone o gelato € 5,00 Ananas al naturale € 3,50 Banana Split (gel. crema, pan, ciocc.) € 5,00 Banana con cioccolato caldo e panna montata € 5,00 Biscotti di Prato con Vinsanto € 3,00 Bongo (fatto in casa) € 3,00 Fragole con gelato o panna o masc.o nutella € 3,50 Macedonia € 3,00 Tartufo € 3,00 Tartufo affogato € 4,00 Tiramisù della casa € 3,00 Torta Mimosa o della nonna o cheescake € 3,00 Tris di dolci "...I peccati di gola" € 5,00 Bongo con ciocc. caldo € 3,50 Coppa mascarpone € 3,00 Creme Caramel € 3,00 Gelato affogato con mirtilli caldi o nut. € 4,00 Gelato misto € 3,00 Panna cotta con frutti di bosco o cioccolato € 3,50 Panna cotta della casa € 3,00 Sorbetto al limone fresco € 3,00 Crema catalana € 4,00 CREPES SALATE Abu Simbel (4 formaggi) € 5,00 Assuan (crema, asparagi) € 5,00 Cairo (ins. gamb. salsa rosa) € 6,00 Cleopatra (crema, funghi porcini) € 6,00 "...i Peccati di Gola" (scam.-speck) € 6,00 Le piramidi (ricotta e spinaci) € 4,00 Luxor (prosciutto cotto e mozz.) € 4,00 Minn (salamino olive nere, mozz.) € 5,00 Nubi (salsiccia e stracchino) € 5,00 Sfinge (crema, salmone) € 5,00 Tebe (mozzarella, pom.e basilico) € 4,00 CREPES DOLCI Al gran Marnier € 5,00 Ananas - Tequila e crema € 6,00 Cioccolato e crema € 5,00 Crema di caffè e panna € 5,00 Fragole e panna o crema pasticc. € 5,00 Frutta fresca e mascarpone € 6,00 Frutti di bosco e mascarpone € 5,00 Gelato nocciola e crema di wisky € 6,00 "...i Peccati di Gola" (tris di assaggi) € 7,00 Marmellata (frag., aran., fichi, pesca) € 5,00 Nutella e banana € 5,00 Nutella e mascarpone € 5,00 Solo nutella € 5,00 Solo crema € 5,00
BEVANDE ALLA SPINA Coca Cola-Aranciata piccola-Sprite-Thé € 2,00 Birra chiara piccola € 2,00 Coca Cola-Aranciata piccola-Sprite-Thé € 3,00 Birra rossa piccola € 3,00 Birra chiara media € 4,00 Birra rossa media € 4,50 Coca Cola 1 lt. € 6,00 Birra chiara 1 lt. € 8,00 Birra rossa 1 lt. € 9,00 Fustino di birra al tavolo 3,5 lt. € 24,00 BEVANDE IN BOTTIGLIA Analcolica - Ceres - Beck's - Corona - Bud € 3,00 Du Demon - Guinness - Adelscott - Franziskaner - Tennent's - Moretti € 4,00 Lattine: Coca Cola, Fanta, ecc. € 2,00 Succhi di frutta € 3,00 Acqua Minerale (0,75) € 1,50 VINI BIANCHI E ROSSI BIANCHI Greco di Tufo € 10,00 Verdicchio, Pinot Grigio,Lancers Rosè € 9,00 Vino della casa (0,750) € 6,00 ROSSI Chianti rosso (0,750) € 10,00 Rosso di Montalcino (0,750) € 15,00 Santa Cristina (0,750) € 9,00 Vino della casa (0,750) € 6,00 SPUMANTI Brachetto € 13,00 Spumante Bottiglia € 10,00 Bicchiere € 2,00 Bicchiere Brachetto € 3,00 CAFFETTERIA Amari € 1,50 Caffè € 1,00 Caffè corretto € 2,00 Caffè d'orzo € 1,50 The caldo € 3,00 Whisky-Vodka-Limoncelli-Grappa € 2,00 Baileys - Jack Daniel's € 3,00
Wo Wir Sind
Kontakte mit dem folgenden Formular
Kommentar
Keine Kommentare eingefügt